| | |
| --- | --- |
| MediaSpace Wiki | |
Weick's Sense Making Model (http://www.utexas.edu/courses/speclass/courses/350/notes/syste350.html; http://chadwick.jlmc.iastate.edu/theory/weick.html; http://www.onepine.demon.co.uk/pweick.htm; http://psol.gmu.edu/psol/perspectives2.nsf/15076cc88dd39036852565380058de2e/9c69183929592b1f8525696f0012b5e8?OpenDocument)

Organization is process-oriented (not structure-oriented)
Organizations Process Information
Communication enables the sense-making process people use when they organize

Sensemaking = the way we adapt and adjust to an environment by working to change it
Sensemaking is often recognized retrospectively - we act and then explain what we did
All to frequently, we enact 'limitations' to avoid issues
Sensemaking works to reduce equivocality (e.g. multiple meanings) in information

Information is processed in three stages:

Enactment - defining the situation and the scope of the information
Selection - narrowing equivocality by deciding what to use and throw away
Retention - deciding what information/meaning will be retained for future use

Selection and retention involve double interacts

Act = statement ("Can I have a Popsicle?")
Interact = response ("No, it will spoil you dinner.")
Double interact = metaresponse "Well, how about half a Popsicle?"). Note the adjustment.
Assembly rules are double interact based operating procedures
Behavior cycles are sets of double interacts used to facilitate the selection and retention process

The organization as a system:

Takes in equivocal information from its environment,
Tries to make sense of that information,
And uses what was learned in the future.

Organizations evolve as they make sense out of themselves and their environment.
Weick ties systems theory to social construction, an important innovation.
Other important concepts:

Scanning

For the wrong stuff
At the wrong time (especially not scanning at the wrong time)

Loose coupling - a buffer against system stresses
Partial inclusion

Knowing what a person does outside an organization informs what they might do inside an organization
---
Hierarchy, Networks, Complexity, and Emergence
---
Networks

Small-group networks

Circle:
Chain:
Wheel:
All channel:
(From http://historypages.org/hollywood/speech/commelements/models.html)
Example: The grapevine
Network roles

Isolate
Group member
Bridge
Liaison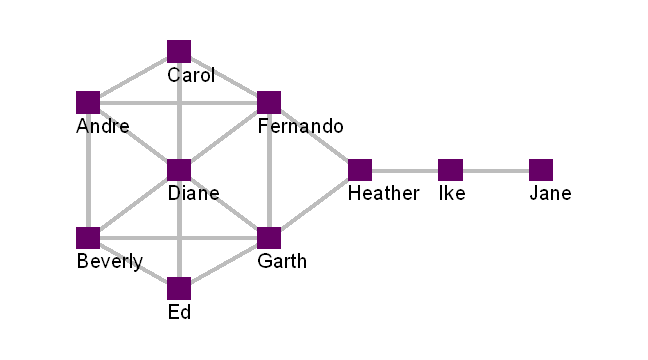 Characteristics of network roles

Degrees
Betweenness
Closeness
Boundary Spanners
Peripheral Players

Characteristic of networks

Network Centralization
Structural Equivalence
Structural Holes
Small Worlds

Emergent networks

Emerge around purposes (content-areas or topics)
Cross-organizational boundaries
Can be forced to change from the outside

New management, for instance

Linkage types

Institutional
Representative
Personal

Emergent networks and the internet
---
Spring03OrganizationalSession10
Hierarchy, Trust, and Competence
Harvard Business Review, p. 79-118
---
Building Trust
"Candor Depends on Trust"
"Trust Avoids Authority and Flees a Judge"
"Subordinates never want to give the boss bad news

Locus and attribution matters here

Itís easy when another department makes a mistake
Harder when we have to admit we made a mistake
And can be dangerous when you have to tell the boss they screwed up

Professionalism matters

If itís our job to solve problems, we want to try

Immediacy is an issue

Itís easier to ignore sure unpleasantness in the short term when a larger long term unpleasantness is uncertain
Immediate commissions and customer satisfaction may seem more important than uncertain implications
So how can one build trust?
Communication: Keep your people informed.
Support: Show concern. Be available.
Respect: Delegation, listening to employees and acting on their opinions
Fairness: Give credit where it is due
Predictability: act consistently
Competence: Know how to do your job.
Signs of trouble

Reduced information flow
Lower morale
Ambiguous messages
Nonverbal
Stakeholder warnings
Spring03OrganizationalSession11
---
-- Last edited September 18, 2015

Go to Main Topic list
---
Unless otherwise noted, the contents of this page were written by participants on the Media Space Wiki, operated by Davis Foulger, and should be cited accordingly. For example (APA):
Foulger, D. and other participants. (September 18, 2015). Spring03 Organizational Session10. MediaSpaceWiki. Retrieved on from http://evolutionarymedia.com/wiki.htm?Spring03OrganizationalSession10.
azitromicina
canadian pharmacy viagra
viagra
cialis
cheap generic viagra
Canadian pharmacy
acheter une pharmacie
pharmacie en ligne
Canadian pharmacy viagra
ed pills
buy zithromax
buy cymbalta
pharmacie viagra
staxyn
avanafil
pharmacien en ligne
viagra online
ed meds
generic viagra
viagra vs cialis
xenical online
cialis vs viagra
ed drugs
pharmacy en ligne
buy nexium
viagra cialis